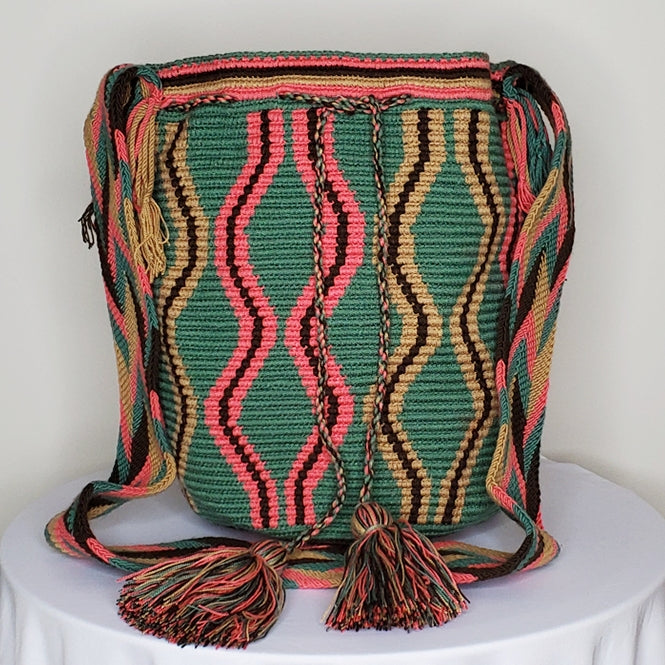 Traditional Wayuu Mochila- Rulumayau
Regular price $84.00 $75.00 Sale
"Rulumayau" (Wayuunaiki language) represents the path left by the fire ants which take part in many Wayuu legends.
TRADITIONAL WAYUU DESIGNS (KAANAS) & THEIR SIGNIFICANCE 
These traditional (autochthonous) designed mochilas hold deep meaning for the Wayuu artisans and culture as each design comes from their ancestors and is considered part of their identity and connected to their worldview, environment and surroundings.
In the Wayuu culture, crocheting is a symbol of wisdom, intelligence, and creativity and artisans take a lot of pride in their work. Each design incorporated into a Wayuu bag is unique to its weaver, telling a story through the bag's colours, patterns, and shapes. For this collection, we offer exclusive designs that will never be replicated, making each bag a very special ONE OF A KIND possession.
PRODUCT SPECIFICATIONS
Length: 11"/ 28 cm
Diameter: 7.8"/ 20 cm
Strap: 120 cm/ 47"
100% acrylic
*Note all sizes are approximate, as mochilas are handmade, they can have slightly different measures.
PRODUCT CARE
Cleaning the fabric is easy, simply hand wash with a mild detergent or wash it in a machine in a delicate setting
Lay flat to dry